Believe it or not I'm quite strict about how much popular culture enters my home. I carefully consider what is good for my kids, what is unlikely to do any harm and what has the potential to send a message that contradicts our value system.
My verdict on angry birds is that it's a harmless bit of fun.
My boys LOVE angry birds and they have many of the games on the ipad and android. Although I don't encourage a lot of computer game time due to their addictiveness - they do get some game time over the weekend and angry birds is their game of choice.
My boys also have 2 sets (yes, 2) sets of the
angry birds real life game
which they LOVE. They don't actually play the game but use all the pieces to create elaborate structures and knock them down. They have also been improvising with similiar toys they can use in their structures such as uno stacko blocks. Given that angry birds can be used to teach physics and elements of structural engineering, it's a positive addition to our homeschool game collection.
So, it makes sense that some fun, angry birds themed activities might provide a good supplement or addition to our homeschool day.
So here's what I discovered in my searching for angry birds themed resources and wanted to share with you......
FREE Angry Birds Printables
suitable for homeschool.
Angry Birds Kindergarten Printable Set
This set covers a wide range. Some activities are suitable for a pre-schooler around 3-4 years old like the classifying, sorting and coloring and others are for around the 5 year old mark like sight words and simple fractions. I used this set with both DS3 and DS5.
Angry Birds Coloring Pages
Angry Birds Pre-school Activity Printables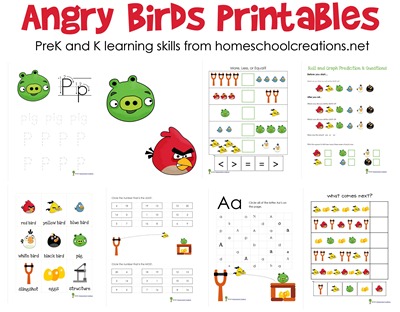 These are 'prettier' printables and contain activities such as tracing, simple words, size sorting etc..and are suitable for pre-schoolers. I highly recommend these!
Angry Birds Vocab cards for older kids
DS7 didn't want to miss out so I tried to find something suitable for older kids. Most things I found focused on physics and geoparabolas (mental note: find out what that is). I found these vocab cards and got him to glue them in a book and use them in a sentence. Simple.
Angry Birds Times Tables Printables
I also discovered these which I plan on using when we start multiplication next week!
I hope your little angry birds lovers enjoy these activities as much as my boys have!